HIGH POWERED PRODUCTS
Polarity is a global leader in power systems design and manufacturing. Our engineers design and fabricate pulsed and CW microwave tube amplifiers, microwave tube power supplies, and high voltage power supplies, AC-DC, DC-DC converters, DC-AC inverters, and microwave tube test sets for military, industrial, and research applications. Polarity designs can be found in major electronic warfare (EW), electronic countermeasure (ECM), radar, communication, and test equipment systems worldwide. Our airborne, shipboard, and ground mobile systems adhere to the most stringent design requirements, ensuring long product life cycles and cost-effective maintenance.
PRODUCT LINES
Military Pulsed TWT Amplifiers
Military High Power AC/DC to DC Converters
High Power RF Amplifiers – TWT, Klystron, Magnetron, CFA
High Voltage Microwave Tube Test Sets
High Voltage Solid State Modulators
High Voltage to Low Voltage DC to DC Converters
High-efficiency transformer-less PV inverters
Tethered Drone, Tethered UAV
Power Factor Correction Modules – single and 3 phase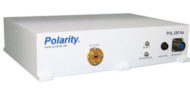 Polarity is currently offering a 450W, 32GHz to 36GHz MPM for commercial and military applications.