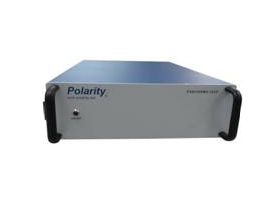 P300W2-20CP SSPA
The P300W2-20CP SSPA is a high power, broadband, solid state power amplifier housed in an EIA compatible 3U height rack mountable chassis. The amplifier incorporates a wide input range AC – DC or DC to DC power supply, fan–forced convective thermal management, and an internal driver amplifier. The amplifier is appropriate for high–power wide–band testing, communications, radar, or any application requiring capability for simultaneous power amplification of signals across the 2.0 – 20.0 GHz spectrum.
The P300W2-20CP incorporates high efficiency GaN MMICs, spatially combined in a compact structure to achieve robust, high performance power amplification across the 2.0 – 20.0 GHz frequency range.
Product Features
2.0 – 20.0 GHz
300/200. Watts sat. power
62 dB small signal gain
54 dB nominal power gain
208 – 250 VAC 47–63 Hz AC input or 28VDC
Forced air cooling
Enclosure options: rack mount and waveguide output
Interfaces: Ethernet
Performance is typical across frequency. Please reference electrical specification table and data plots for more details.
Applications
Radar
EW
Communications
Test & Measurement
EMI Testing